Why The Term American Exceptionalism Needs To Be Retired
America In Context Live: In discussion with Francesca Fiorentini
The following is an opinion piece intended to spark discussion. Part of AIC's mission is to improve news literacy by clearly marking the difference between reporting and commentary pieces. These pieces reflect the views of the individual writers and producers associated with this piece and do not necessarily align with the views of all of our contributors, columnists, or board. For more information about our editorial standards please visit our about page.
A few weeks ago, on the heels of the high holy days in the Jewish faith, I saw an unfortunate reminder that anti-semitism is alive and well in the U.S. — a vehicle owned by a federal law enforcement agency had a poster of Hitler sitting on the front dashboard. It was appalling but not shocking. In fact, the Anti-Defamation League recently found that 24 million Americans foster antisemitic attitudes — a stark uptick from previous years. This is a direct result of a nationalist--- populist identity.
This uptick is a result of populist leaders becoming more prominent in power across the globe with members of their own governments that enable them. The United States is clearly no exception. The United States, throughout its history, has targeted marginalized groups. As communities of color, religious minorities and ethnic minorities, women, etc can attest to this is nothing new. In fact, hate is as fundamentally American as Apple Pie. Pundits that say this not who we are in fact are very wrong. This is exactly who we are. The sooner we acknowledge that, the sooner we can fix it.
But what's different— a strength of the American identity is that our resting pulse is discontent. Everyday we thrive to be that much better than we were yesterday. That's why touting American Exceptionalism is Un-American. It undermines the very idea of growth and only establishes compliancy emboldened by catchy buzzwords and populist campaign slogans.
Because ultimately the fact of the matter --- we're not really number one in anything to be proud of. We lead the world in incarceration. OH, and we lead the world in Covid deaths. We can change that.

We can yet again be the leader in science, education, arts, culture, innovation if we take active steps to fix that. Francesca Fiorentini, the host of Newsbroke on AJ+, The Bitchuation Room podcast, and the host of "Red White and Who? on MSNBC joined America In Context Live last week to discuss. You can catch the full show on Happs TV or listen to it as podcast.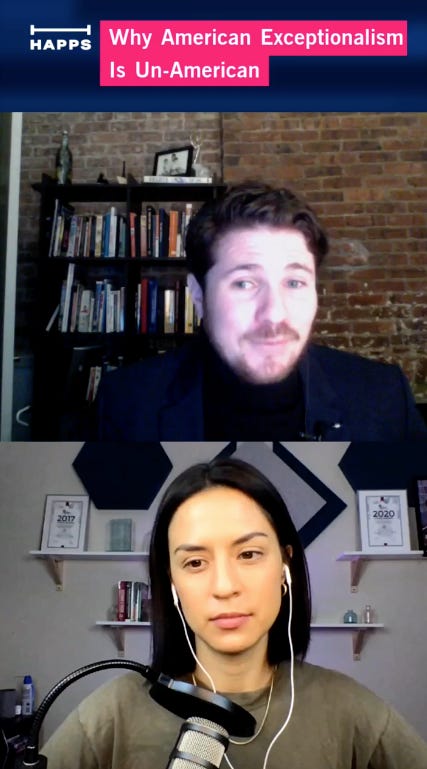 ---
Andy Hirschfeld is a multimedia journalist based in New York City. He's a contributing writer to numerous publications including The New York Observer, The Daily Dot, Al Jazeera English, Bloomberg, CNBC, CS Monitor, OZY, Fortune, and Mic among others. He's appeared on NPR, CBS, Pacifica Radio, and DW. Previously he's produced and reported for ABC, CBS, and CNN. Follow on Twitter at @andyreports


Additional Commentary from Francesca Fiorentini, the host of Newsbroke on AJ+, The Bitchuation Room podcast, and the host of "Red White and Who? on MSNBC as well as AIC / Happs producer Pablo De La Hoya.
---
Want more stories like this? We need you to support our independent journalism. Subscribe to our premium publication and get access to books, special series, live events and other great resources.