New Slate of Programming Coming To America In Context
More of What We Are Building
We have more developments to share about what we are building with America In Context. We are partnering with the livestream network, Happs launched by former CNN Executives to bring you our America In Context series weekly anchored by managing editor Andy Hirschfeld. America In Context's Andy Hirschfeld joins Happs new cohort of 'verified journalists' taking the platform to the next level which includes Emmy-winning anchor David Shuster and New Yorker Magazine Cartoonist Liza Donnelly among others.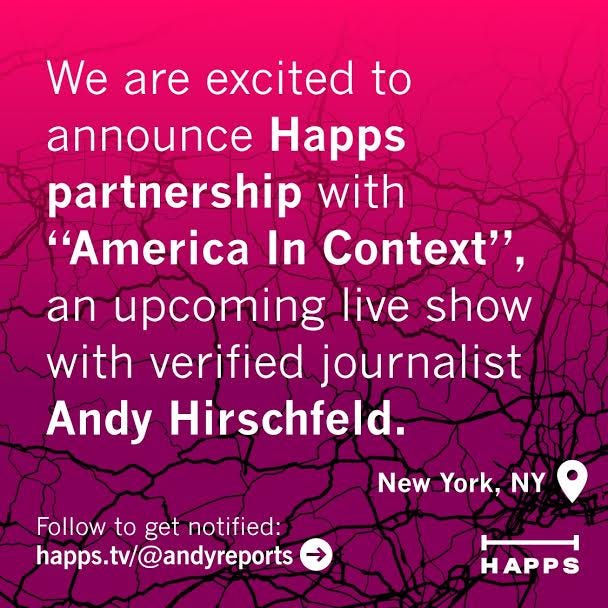 America In Context's show will stream live for Happs and simulcast on Twitter, Facebook, on their app and as Reddit's official livestream news platform. Miss the stream? That's fine you can always catch a taped version.
---

On the go? The show is also available as a podcast right here on the America In Context Newsletter. All our current, upcoming and past episodes are also now available on SoundCloud and wherever you choose to get your podcasts. Go back in our archives and listen to our interviews with names ranging from activist Bill McKibben to singer Rebecca Black to HUD Secretary Ben Carson.
Meanwhile, we've also tapped some new contributors who will write a piece or two in the coming weeks. Joseph De La Cruz is a Brooklyn based journalist. He is a producer for MSNBC. He also writes for NBC Latino, and Kings County Politics. He's also served in production roles at CNN and NY1. Shivani Persad is a Brooklyn based activist, model and journalist. She has bylines at several notable publications including Teen Vogue, Vogue Business, and Refinery 29. Her work has also been featured on CNN and in the New York Times.
As we grow we will need support from readers like you; subscribers for only $7/month for our paywall content, partner deals, and live events.