EXCLUSIVE: LendingTree Sell Your Data Without Your Consent
Five Month Investigation Into Lending Industry Raises Privacy Concerns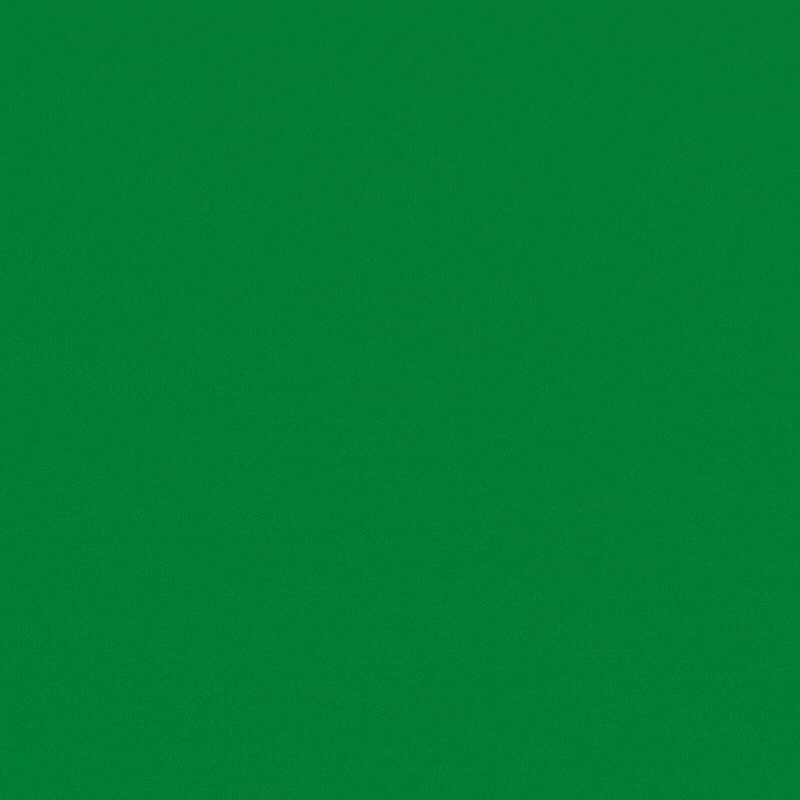 ---
---
LendingTree, America's largest lending marketplace, is selling user data to loan granting agencies without the consent of consumers. According to multiple loan officers for LendingTree's network partners who spoke to America In Context, they have been regularly given data from consumers who started an inquiry form for a home loan on the company's website but never actually submitted it.
The company's terms of services notice makes the propriety of consumers' private information murky and raises questions about LendingTree's promises.
---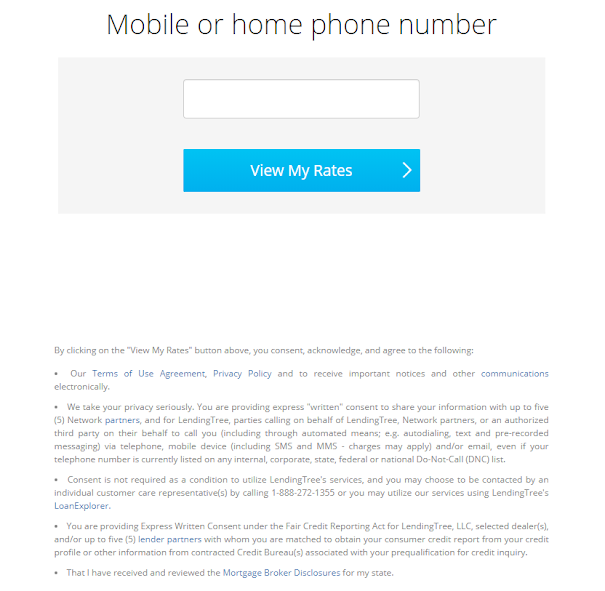 Source: LendingTree
In the terms, the company says by clicking "view my rates," the customer is "providing 'written' consent to share your information with up to five (5) Network partners and for LendingTree partners calling on behalf of LendingTree." However, in the following point, the company says "Consent is not required to utilize LendingTree's services."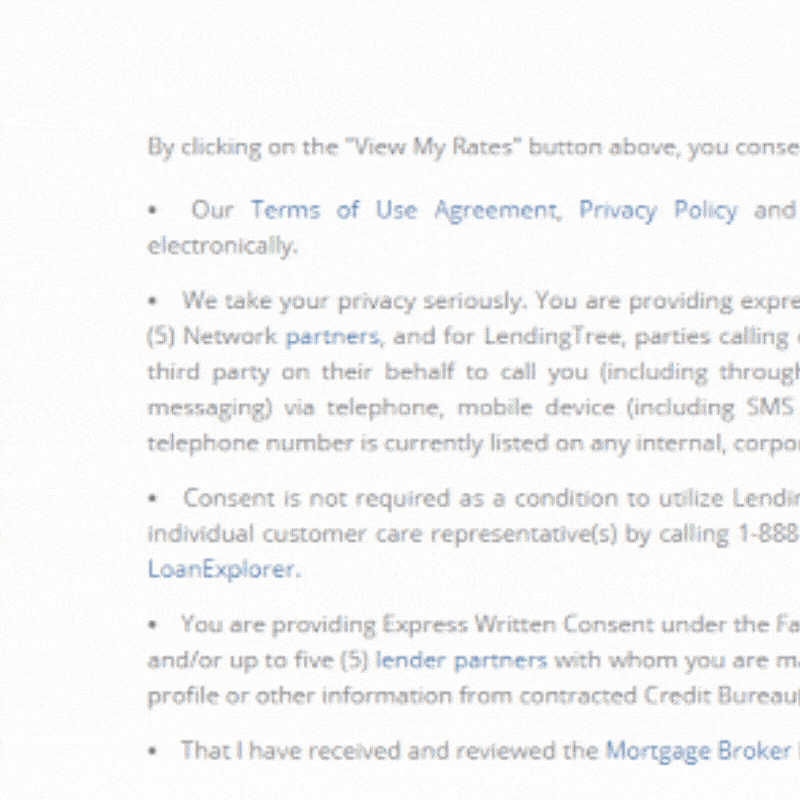 Source: LendingTree
Broadly, LendingTree aims to connect consumers with a slew of possible lenders for services ranging from home loans to small business loans. Once LendingTree's home loan business has a phone number and email address in a started inquiry form, it will then sell this information to third party lenders. The lenders will then flood consumers with calls competing for their business.
In February, seeking to verify the claims, I entered my personal information using the alias "Don Maples" rather than my actual name into LendingTree's forms, but never hit submit. For months, I was bombarded with calls from lenders, even though I never submitted a form. On the first day alone, I received dozens of calls, most of which came before noon.
Lenders continued to follow up for months, as recently as late June.
---
"If someone provides their phone number to receive loan offers, then it is likely that the borrower will receive phone calls," a spokesperson from LendingTree tells America In Context. That differs from the privacy policy, which says that LendingTree "collect[s] information from you when you enter it or otherwise provide it in connection with an inquiry into our Services."
LendingTree's tactic of selling unfinished forms could open the company up to legal ramifications, according to attorney Hassan Murphy of Baltimore-based law firm Murphy, Falcon, and Murphy. Murphy was one of the lead attorneys on the massive Equifax breach lawsuit.
"As the business around aggregating your personal information becomes more and more valuable and prevalent, courts are taking note of that. Ten years ago courts were more inclined to hold consumers to the letter of these agreements as an expressed contract that you consented to, but more and more as all of the transactions and uses of data are coming to light courts are becoming more pro-consumer and concerned the people's data far beyond what they could likely conceive."
Several states and the federal government have acknowledged the practice misleads consumers. They've tried to change the laws. Thus far, those efforts have been unsuccessful.
California has the most robust data privacy laws in the United States. Under the California Consumer Privacy Act (CCPA) consumers have the right to opt out of the sale of their data to a third party. LendingTree however is not subject to these restrictions because it is subject to the Gramm-Leach Bliley Act which requires financial institutions to disclose how they intend to share a consumer's private information. Prior to the COVID-19 outbreak, New York state was considering similar legislation to that of California.
On the federal level, the DETOUR Act, championed by Senator Mark Warner (D-VA) and introduced earlier this year would have outlawed "dark patterns" which LendingTree's tactics arguably fall into. A dark pattern is a user interface that is designed to trick consumers into doing things they would not otherwise do-- like sign up for a service that's difficult to get out of. Another common tactic called misdirection. This tactic uses hard to understand or contradictory terms of service in layman's terms."Because this information is so valuable there are companies that continue to play these kinds of games, purposeful or otherwise the confusing language is misleading consumers," Murphy tells America In Context. America In Context reached out to Sen. Mark Warner's office but they declined to comment.
Consumers are frustrated with how companies use their information. According to a November report from Pew Research, 81% of Americans think the risks outweigh the benefits.
"The laws in this country do not require consent for sharing information in a lot of situations. The question is this inappropriate. Legally there is a difference between what's unlawful and what's ultimately a bad PR move," Tanya Forsheit, Partner and Chair, Privacy & Data Security Group, Frankfurt Kurnit Klein & Selz in Los Angeles, California, tells America In Context.
"It's a fast growing digital marketing industry in which consumers can easily get confused and caught off-guard. Very often people aren't aware how much information that they provide is then being provided downstream to second, third, fourth or fifth parties," April Falcon-Doss, Privacy lawyer at Saul Ewing Arnstein & Lehr in Baltimore, tells America In Context. "Consumers generally assume that if there is a privacy policy their information will be confidential. That's not true. The privacy policy just explains how it will be handled."
"From 2018 through the 1st half of 2019, over 10,000 borrowers closed on a loan through LendingTree's network when they originally didn't fully fill out a form, so for some consumers, there was an identified savings benefit that worked out in their favor." LendingTree's spokesperson tells America In Context. Murphy says this is still problematic. "Between cutting corners and bombarding consumers with calls, it's very possible that many consumers could close deals just to end the headaches." Murphy says. LendingTree is not the only company in the lending business that uses this practice. Their competitor Quicken also uses this same practice.
This could be particularly damaging for first time home buyers "Buying a home is the most important expense you will make in your life-- shop around...don't take the first thing that comes along just to end the annoyance. " Richard Green Professor of Policy, Planning, and Development and Professor of Finance and Business Economics at the University of Southern California tells America In Context. Lenders we spoke to agree that the way LendingTree approaches this undermines their job. "We would want to buy leads from people who actually work with us." one lender tells America In Context.
Doss points out the FTC is the agency that would really need to crack down on this process. The agency could help revise standard privacy policy language to be more understandable for the average consumer. "The way the FTC interprets this has evolved over time. That's the best place to start to help consumers." Doss adds.
The Federal Trade Commission (FTC) regulates this business at some level. In 2011, FTC outlined the Mortgage Advertising Practices ("MAP") rules. One of which requires companies to refrain from practices that likely mislead consumers.
While these lending agencies facilitate connections with lenders for all kinds of loans like student loans for example, in the context of COVID-19, the housing market faces a particular vulnerability.
Almost half of Americans ages 18-64 had trouble making rent or mortgage payments since the pandemic started according to the Urban Institute. Federal rent and mortgage protections barring evictions are set to expire this month which will likely result in massive evictions. Meanwhile, mortgage applications surged steadily in June— up more than 54 percent from this time last year. This past week applications were up more than five percent from the week prior according to The Purchase Index by the Mortgage Bankers Association.
Housing experts however are optimistic that there will be improvements in the future citing reforms to the industry since the 2008 financial crisis. "What LendingTree is doing is obnoxious, however it's significantly better than issues home buyers have faced in recent decades," Green tells America In Context adding "It is a testament to how regulation has improved the lending business."
---
Andy Hirschfeld is a multimedia journalist based in New York City. He's a contributing writer to numerous publications including The New York Observer, The Daily Dot, Al Jazeera, Bloomberg TV, CS Monitor, OZY, Fortune, and Mic among others. He's appeared on NPR, CBS, Pacifica Radio, and DW. Previously he's produced and reported for ABC, CBS, and CNN. Follow on Twitter at @andyreports
---